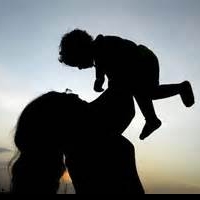 I was reading a Facebook posting from my niece Bobbie:
So Mike had teething issues last night and was up most of the night and we paced and sat and paced and cajoled until finally Mike was able to fall asleep on the couch and wearily I was sitting on a cushion on the floor in front of the couch waiting for my moment to scoop him into his bed so I could finally go to bed too. I put my head on the couch, waiting and Mike did that one thing that mothers wait eagerly for once their children learn to talk….he put his arms around my neck and in a sleepy voice said, "Wuv yooo Mama." and promptly went to sleep. My heart has never felt so full.
Oh, how I remember those times with our son.    I am undoubtedly going through the empty-nest syndrome.  Although our son is 20 and still lives at home, he works at night, sleeps during the day, and in between, my attempts at conversation end with a "yes," "no," or a grunt.    I feel as though I'm going through a form of grieving, and I feel guilty for this because there are so many parents who are trulygrieving over the passing of their children.  I miss the child who even at age 15 would stop me from what I was doing to give me a hug.  I miss making ketchup sandwiches, his term for a fried egg and bacon sandwich with a little mayo and ketchup. I miss the comradery, laughing with each other, even the endless conversations about Star Wars and guns and the current video game–my eyes glaze over just thinking about those topics.
Oh, those were good times, sigh.
I have to remind myself that every phase of our lives can be good, and I need to stop missing what was and get on with enjoying what is!  Just because we are missing the good times of old doesn't mean we can't put ourselves in new positions to experience the good times of today and tomorrow!
I am reminded of Californian Larry Walters who would come home from work as a truck driver and sit in his backyard in his lawn chair day after day.  He would gaze at the sky and think on his childhood dream of becoming a pilot.   One day in 1982, while sitting in that lawn chair, he hatched a plan that involved 45 helium weather balloons and said lawn chair.  Expecting a leisurely flight, he equipped his vessel with sandwiches, cold beer, a camera, a parachute, a pellet gun and a CB radio.  Leisurely, it was not.  The moment the cord was cut, he shot up 15,000 feet.  White knuckled and fearful that his vessel would become unbalanced, he waited 45 minutes before shooting two of the balloons; he then accidently dropped the gun.  He slowly began the descent, and even entered the approach path of the Long Beach Airport!  He eventually became hung up in power lines, causing a blackout in Long Beach.  After a big "to do" he was finally able to get his feet on the ground.  He was arrested but released because nowhere on the books is it illegal to fly a lawn chair!  When asked why he did this, Larry stated that he couldn't just sit there!
The same goes for you.  If you're missing something (or someone) in your life, don't just sit there!  Contact a local school and volunteer to read to kindergartners, or as in my case, volunteer for children to read to you!  (Here's a shout out to Miss Lisa's advanced reading kindergarten class at Moore Magnate!)  You could also contact the housing authority and see about teaching a life skill or craft, like crocheting or cooking, to children or adults who live in the local housing area.  Here in Clarksville, Tennessee, at least one of the public housing areas has a community center with a kitchen, an ideal place for lessons!  If you're missing your mom or dad or a grandparent, volunteer at the local senior citizens' center.  My friend Glenda runs the Ajax Turner Senior Citizens' Center thrift store as well as donates her time to the Downtown Artists' Co-Op.
Another friend Naomi makes blankets for Project Linus.  These blankies are for children in need.  And until this year this octogenarian was going to school every weekday for four hours a day to be a foster grandparent to children—she quit after 16 years only because she decided she didn't have any business driving in the ice and snow to and from school!  She liked to claim that she was 89 and still in kindergarten.
We are never too old to help others and sometimes that help is in the form of simply giving someone attention. Teens go on mission trips around the world, but we can go on a mission trip each day to our neighborhood by serving people "missionally" just as Christ did.
Don't just sit there!  Create your own Good Times!
(If you have any questions about getting involved in any of these projects, just let me know below in the comment section below.)